Why Loannaira should be banned by Google Play and delisted by CBN
When in need of quick funds, patience is ultimately needed in order not to fall into the unfavourable hands of loan sharks masquerading as quick loan apps in Nigeria. One loan app that we must warn users and patrons of quick loan apps about today is Loannaira, which is hosted on Google Play Store.
Loannaira is a quick loan app that operates under the company name Rubystar Global Ltd though this is not available to the public. The lending app claims to offer easy, 100% online loan with a low-interest rate and says it allows you to access the loan at any time and anywhere.
The loan app also make the following claims:
Loan amount: from ₦5,000 – ₦100,000;
Easy and flexible repayment plan
Interest rate is 0.013% to 0.05%
One time processing fee of 10%
Loan term: 91 days – 180 days;
Annual interest rates from 14%-20%
Loannaira App. gave a representative example:
If you borrow a 91days loan, the interest is 3.5% and a processing fee of 10%. For a loan of NGN 10,000, the interest would be NGN 350, and the one-time processing fee would be NGN 1,000. The total amount due would-be NGN 11,350.
QUICK LOAN ARENA investigations however reveal that the above claims are not true as to what happen practically with Loannaira loan approval and disbursement procedures. The loan app has broken and still breaking all financial rules and users are warned to be weary of this insincere platform.
Its interest rates are neither low nor favourable as claimed. The 0.013% to 0.05% published on the app's profile on Google Play is false., because it charges as much as 25% interest or more against Google Policy.
2. Also Loannaira claims a loan tenure of 91 days to 180 days as stipulated by Google Play. However this is false              from the image below. It gives loan between 7-10 days. This is also against Google Play policy on tenure.
3. Furthermore Loannaira charges its interest UPFRONT deducting it from the oan amount from source and                     crediting customers with the balance. This is untowards and unethical.
4. Loannaira only gives tiny loan amounts such as N5,000, N10,000. We are yet to see anybody who collected                   between N50,000 to N100,000. This is against its claim of giving up to N100,000 loan.
QUICK LOAN ARENA understands all these practices by Loannaira are against Google Play policy, against Central Bnak of Nigeria , CBN regulation and against regulatory authoritues procedures and we are calling out Loannaira to stop this infringement activities on its customers.
What Loannaira does is, it will tell a customer he/she is eligible for a certain amount of money and will not show its interest rate and service fee. Customers are deceived to think the loan is interest free whereas, its all falsehood.
According to the image below, a customer was told he'll get #5,000 as loan amount and amount due to to be repaid is same #5,000. QUICK LOAN ARENA investigative sources reveal that, what Loannaira sent as disbursement to the borrower's accountis was N3,250, deducting N1750 as interest charges from source as seen in the second image below: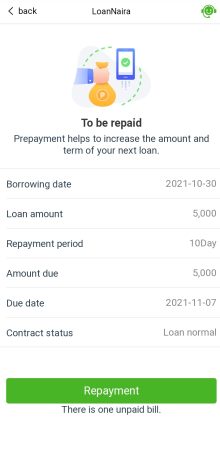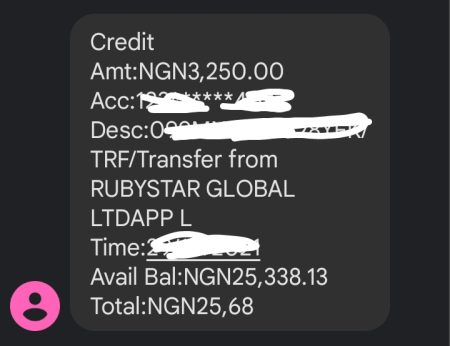 QUICK LOAN ARENA confirmed that Loannaira is operating under Rubystar Global Ltd, registered with the Corporate Affairs Commission, CAC. This was further given credence to, by the above image. All phone calls and effort to reach the customer service of Loannaira for comments were futile.
People patronizing these loan applications are therefore implored to watch carefully or if possible totally avoid Loanaira and other fraudulent apps completely.
Furthermore customers who have been cheated in the past can read our article on how to report or remove a fraudulent app on Google Play,. Following the steps outlined in the article, you can get Google Play to enforce its policy on any violating app.
————————-End—————————-
Original content creation costs a lot of money and time.
Unauthorized use, copying and/or duplication of this content material without prior express and written permission to the publisher/owner is strictly prohibited and infringements shall be subjected to relevant copyright laws. Formal request should be sent with email to quickloanarena@gmail.com and addressed to 'The Publisher'.
—————————————————————
To download the eNaira Speed Wallet on Google Play Store,
CLICK HERE.
To download the eNaira Speed Merchant Wallet on Google Play Store,
CLICK HERE.
To download the eNaira speed wallet on Apple Store
CLICK HERE.

To download the eNaira speed merchant wallet app on apple store
CLICK HERE.
To visit the eNaira website and get more information about the digital currency,
CLICK HERE
BECOME QUICK LOAN ARENA BUSINESS PARTNER
Register to become our business partner and enjoy our free advisory and consultancy services on getting a quick loan from our list of accredited lending partners and also guide on the process of loan application.
Disclaimer: Quick Loan Arena is not a loan agency and we do not give out loan to anybody. We however profile and review legitimate and reputable loan agencies and seeks to educate individuals, household and small businesses about loan opportunities to help them make informed decisions and establish their businesses.
Speak with any of our Quick Loan Consultants for more information! Call or Whatsapp +234 (0)803 385 7245.
Do remember to give us a feedback about your quick loan experience after the lending process is executed.
READ ALSO! Google removes LCredit, Rapid Naira, other predatory loan apps from its Play Store
READ ALSO! Got LCredit loan app on your Phone? Here's why you should uninstall it immediately
READ ALSO! Running from banks, Nigerians face crisis with quick loan sharks On Google Play
READ ALSO! Palmcredit: Get Quick Loan Up To N300,000!
READ ALSO! EasyMoni: Stop sending threats to customers' contact list: Do your homework if you're real!
READ ALSO! Instant Cash In Nigeria: Top 30 Quick Online Loan Apps On Google Play 2021
READ ALSO! Quick Online Loans In Nigeria: 20 Platforms Needing No Collateral – Series 1
READ ALSO! Quick Online Loans In Nigeria Without Collateral: 20 Top Platforms – Series 2
READ ALSO! Accounting software expert, Femi Adeoya, takes on small and medium scale businesses
READ ALSO! Money In Minutes: Instant Online Quick Loans In Nigeria Without Documents
READ ALSO! Migo: Quick Online Loans In Nigeria Without Collateral Or Guarantor
READ ALSO! You have a job offer or you are an applicant looking for job, click here or whatsapp 0803 239 3958 to reach us
READ ALSO! How I Was Lured Into Debt Trap With N2.5m Specta Quick Loan From Sterling Bank
READ ALSO! BBNaija Dorathy Launches Lingerie Line, Says Priority Is Making Busty Women Look Good
Please follow and like us: