When in need of quick funds, patience is ultimately needed in order not to fall into the unfavourable hands of loan sharks masquerading as quick loan apps in Nigeria.
One loan app that we must warn users and patrons of quick loan apps about today is Loannaira, which is still hosted on Google Play Storeas of the time of this update.
Why Loannaira should be banned by Google Play and delisted by CBN
Loannaira is a quick loan app that operates under the company name Rubystar Global Ltd though this is not available to the public. The lending app claims to offer easy, 100% online loan with a low-interest rate and says it allows you to access the loan at any time and anywhere.
The loan app also make the following claims:
Loan amount: from ₦5,000 – ₦100,000;
Easy and flexible repayment plan
Interest rate is 0.013% to 0.05%
One time processing fee of 10%
Loan term: 91 days – 180 days;
Annual interest rates from 14%-20%
Loannaira App. gave a representative example:
If you borrow a 91days loan, the interest is 3.5% and a processing fee of 10%. For a loan of NGN 10,000, the interest would be NGN 350, and the one-time processing fee would be NGN 1,000. The total amount due would-be NGN 11,350.
QUICK LOAN ARENA investigations however reveal that the above claims are not true as to what happen practically with Loannaira loan approval and disbursement procedures. The loan app has broken and still breaking all financial rules and users are warned to be weary of this insincere platform.
Its interest rates are neither low nor favourable as claimed. The 0.013% to 0.05% published on the app's profile on Google Play is false., because it charges as much as 25% interest or more against Google Policy.
Also Loannaira claims a loan tenure of 91 days to 180 days as stipulated by Google Play. However this is false.
Loannaira gives loan between 7-10 days which is against Google Play policy on minimum loan tenure. Furthermore Loannaira charges its interest UPFRONT deducting it from the loan amount from source and            crediting customers with the balance. This is untowards and unethical lending practices.
Loannaira only gives tiny loan amounts such as N5,000, N10,000. We are yet to see anybody who collected          between N50,000 to N100,000. This is against its claim of giving up to N100,000 loan.
QUICK LOAN ARENA understands all these practices by Loannaira are against Google Play policy, against Central Bnak of Nigeria , CBN regulation and against regulatory authoritues procedures and we are calling out Loannaira to stop this infringement activities on its customers.
What Loannaira does is, it will tell a customer he/she is eligible for a certain amount of money and will not show its interest rate and service fee. Customers are deceived to think the loan is interest free whereas, its all falsehood.
According to the image below, a customer was told he'll get #5,000 as loan amount and amount due to to be repaid is same #5,000. QUICK LOAN ARENA investigative sources reveal that, what Loannaira sent as disbursement to the borrower's accountis was N3,250, deducting N1750 as interest charges from source as seen in the second image below: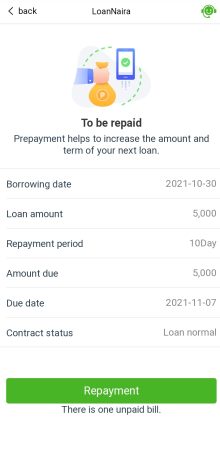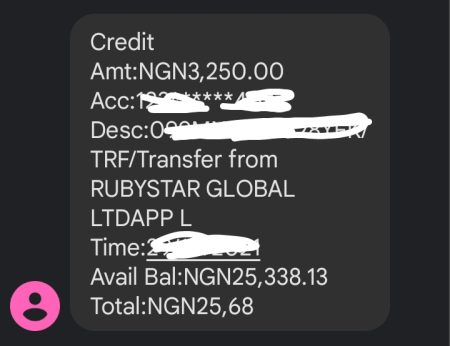 QUICK LOAN ARENA confirmed that Loannaira is operating under Rubystar Global Ltd, registered with the Corporate Affairs Commission, CAC. This was further given credence to, by the above image. All phone calls and effort to reach the customer service of Loannaira for comments were futile.
People patronizing these loan applications are therefore implored to watch carefully or if possible totally avoid Loanaira and other fraudulent apps completely.
Furthermore customers who have been cheated in the past can read our article on how to report or remove a fraudulent app on Google Play,. Following the steps outlined in the article, you can get Google Play to enforce its policy on any violating app.