EasyMoni finally yanked off Google Play Store after several policy violations
QUICK LOAN ARENA can authoritatively reveal that after several policy violations by EasyMoni, following series of indicting stories we reported about them, Google has finally removed the rogue, fraudulent loan app from its Play Store.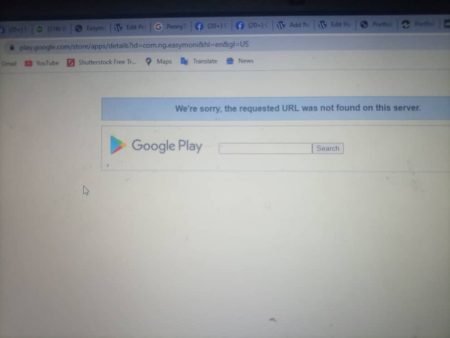 The tech giant has been cracking down on unauthorised and rogue loan applications that were violating the data privacy right of borrowers in Nigeria in recent times following QUICK LOAN ARENA series of indicting and blackmailing reports about the offending apps. We reported last week that Google has removed at least 5 digital lending apps in Nigeria from Play Store including BorrowNow, LendCash, GotoCash, PalmCash and GotCash for the same reason. We understand other yet to be confirmed predatory loan apps have also  been removed.
EasyMoni which is owned by Chinese and managed from China and Honkong but deceptively hosted as a Nigerian loan company in Google Play Store. has been terrorising and blackmailing the country's borrowers for a long time.
QUICK LOAN ARENA was the first to expose EasyMoni loan app as fraudulent and deceptive in our report of September 13, 2021: EasyMoni: Stop Sending Threats To Customers' Contact List: Do Your Homework If You're Real!  Read extract below:
"Little is known about the supposedly loan app online. Quick Loan Arena did an intense search on EasyMoni online but we couldn't find any website or remarkable trace of the quick loan app in the digital space. This calls to question about their integrity and legitimacy…"
We advised the regulatory authoroties in that article: The regulatory authorities should get to work and check the influx and proliferation of these quick loan apps in the country as many of them are only perpetrating fraud and scam in the name of giving out quick loans without any legal framework or check on their processes. 
In November 12, we proceeded with an investigative story and exposed some rogue loan apps hosted on Google Play Store and asked the Nigerian government to crack down on them for infringing on their customers' data privacy. Then the government promised to prosecute the offending lending platform. to EasyMoni was one of the loan apps we indicted.
In November 25, we investigated and found out EasyMoni was owned and managed not by Nigerians or Nigeria respectively but managed in faraway China by Chinese loan sharks..
In October 19, 2021, we did another indicting story on EasyMoni questioning their legitimacy and credibility to operate in our financial space: Is EasyMoni Loan App Legit?.
Few of the terrible reviews coming against EasyMoni by their customers before they were banned from Play Store.
I got debited twice for one repayment and there is no means of reaching you people. No phone number, no valid email address, nothing. I've tried using the live chat but, it's not working. It is bad for a financial service company not to have a feedback mechanism, too bad. Please, let it be on record… Orok Etim
Do Not DOWNLOAD. Its a total failure and Time Waisting App. It will show you a promise of N2, 000,000:00 Loan and authorize N2000 for you as minimum. If you back out once and tap "Immediate Loan" again, it will show you maximum you can borrow to be N3,000:00 only. And at the end of the hectic registration, Loan Failure is the response you get. Useless!…Abel J. Olusegun
This is d worst app I Ave ever seen. I made payment a day before my due date d next day d agents started calling me that my money is due I showed them d evidence of payment through WhatsApp they still keep on telling me they Ave not received it that they will send messages to my contacts. If u don't want thunder of God.to strike u ND ur generation don't try anything stupid. Stupid people….David Bukola
This is the worst and useless app I've ever come across, after defaulting for four days they started publishing me on fbk sending text to my contacts that am a criminal, I run away with company's money and police are looking for me. I now pay them the 5000.00 I collected from them and send the proof, still they find it difficult to clear it , is till there on d app. Easy Moni your services are bad. People run away from them o they don't deserve 0 star at all. I respect branch….Lydia Dulla.
Unauthorized use, copying and/or duplication of this content material without prior express and written permission to the publisher/owner is strictly prohibited and infringements shall be subjected to relevant copyright laws.
BECOME QUICK LOAN ARENA BUSINESS PARTNER BY DONATING TO OUR CAUSE
Original content creation costs a lot of money and time. You can support our objective and social intervention by donating to this cause with this link>>>>>Register to become our business partner and donate to our CSR cause. Among other things, this will make sure we continue in this cause and additionally entitle you to enjoy free advisory and consultancy services with our financial consortium.
Disclaimer: Quick Loan Arena is not a loan agency and we do not give out loan to anybody. We however profile and review legitimate and reputable loan agencies and seeks to educate individuals, household and small businesses about loan opportunities and fight for the cause of Nigerian consumers who are daily being oppressed by loan sharks. Our intervention is to help prospective and subsisting loan customers make informed lending decisions.
You can speak with any of our Loan Consultants for more information! Call or Whatsapp +234 (0) 915 382 1578.
Do remember to give us a feedback about your loan experience after the lending process is executed.
READ ALSO! Data Breach: Lagos Journalist blows hot, threatens to sue 9Credit for defamation
READ ALSO! Top 20 Loan Apps In Nigeria For Instant Cash!
READ ALSO! FG Launches Portal For Sale Of Homes Under National Housing Scheme (HOW TO APPLY)
READ ALSO! For customers' data breach, defamation: 9Credit app should be blacklisted
READ ALSO! CBN unveils business loans at 5% (N5m individuals, N25m corporate) for graduates, undergraduates
READ ALSO! Quick online loan scams: Top 7 ways to avoid falling victim
READ ALSO! Data Breach: EFCC, CBN, NITDA, FCCPC To Crack Down On Rogue Loan Apps
READ ALSO! CBN '100 Companies Every 100 Days' Loan Fixed At Maximum N5bn At 5%
READ ALSO! Google removes LCredit, Rapid Naira, other predatory loan apps from its Play Store
READ ALSO! How To Apply For CBN '100 Companies Every 100 Days' Project Funding
READ ALSO! Running from banks, Nigerians face crisis with quick loan sharks On Google Play
READ ALSO! EasyMoni: Stop sending threats to customers' contact list: Do your homework if you're real!
READ ALSO! Accounting software expert, Femi Adeoya, takes on small and medium scale businesses
READ ALSO! You have a job offer or you are an applicant looking for job, click here or whatsapp 0803 239 3958 to reach us
READ ALSO! How I Was Lured Into Debt Trap With N2.5m Specta Quick Loan From Sterling Bank
READ ALSO! BBNaija Dorathy Launches Lingerie Line, Says Priority Is Making Busty Women Look Good
Please follow and like us: